TRAILMARK FALL FEST & OPEN HOUSE OCT 21, 2017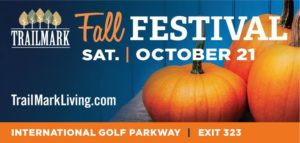 On Saturday, October 21 2017, TrailMark opens its doors to the community for a free community Fall Festival & Open House! From 11 a.m. until 3 p.m., families across the region are invited to come to TrailMark & celebrate Fall – our festival includes a pumpkin patch & farmer's market from Local Fare South, hot air balloon rides, live music, rock climbing wall, obstacle course, giant slide, free refreshments, face painting, food trucks, prizes, giveaways and more!
Joining the fun will be local food trucks: Treemendous BBQ, Chubby Burrito, Mother Truckin Pizza, Island Dream. All attendees will receive a ticket redeemable for one free snack from any of the food trucks on-site. And entertaining the crowd all day will be live music from Jacksonville's party band Love Monkey Band, plus explore our parks and trails, full amenities center, and spectacular model homes in our nature-first community, the first of its kind in St. Johns County.
RSVP on Eventbrite here: http://bit.ly/2yvGzVg